If you find yourself spending time creating a new load each time your driver runs a recurring load, lane templates are the solution you've been looking for!
What are lane templates?
A lane template is a way for Flex users to automatically save the information from a recurring lane so they can create multiple loads into the future.
Who can create a lane template?
The following users can create, edit, and use templates:
Fleet admins
Fleet drivers who are allowed to see the load board and book their own loads
How can a user add, edit, or delete a lane template?
Users can add, edit, and delete lane templates from the Jobs tab.
1. Click on Jobs from the left hand side nav
2. Click 'Manage templates'
3. Select 'Add template' to add a new template or click on the three vertical dots on an existing template to edit or delete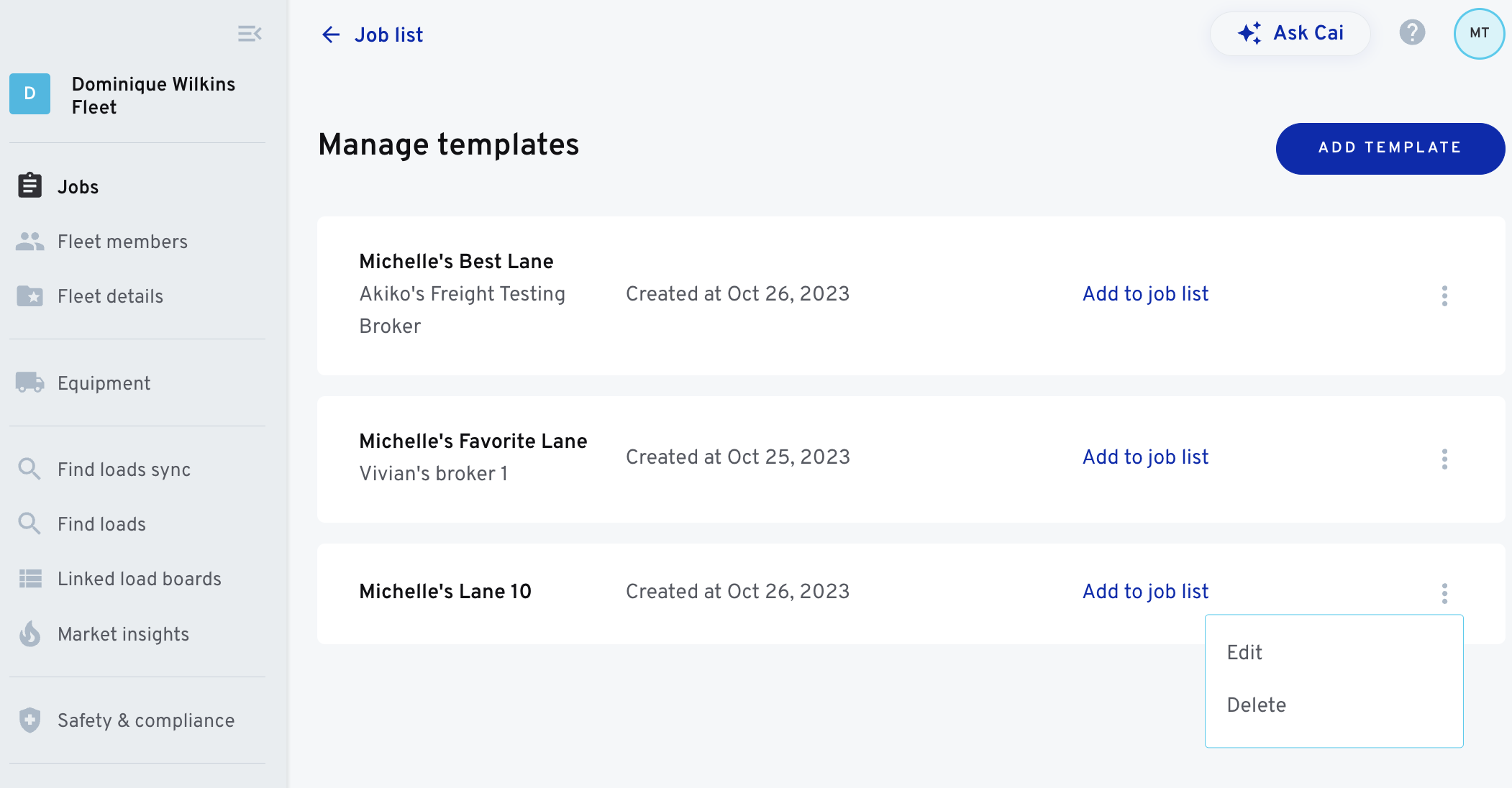 4. If you're adding a new template, add the lane information you have on-hand and create a job from that template
5. Once your template is created you'll be redirected to your 'Manage templates' page where you'll see all the templates your fleet has created
How to use a template to create a job
1. When you're ready to use that template to create a live job, select the template you want to use, click 'Add to jobs list' and upload your ratecon or add in all of the official load details
2. Once you've confirmed all the details you'll see a confirmation page like the one below where you can either go to your jobs list or create more copies of the load if you know it'll be recurring for any period of time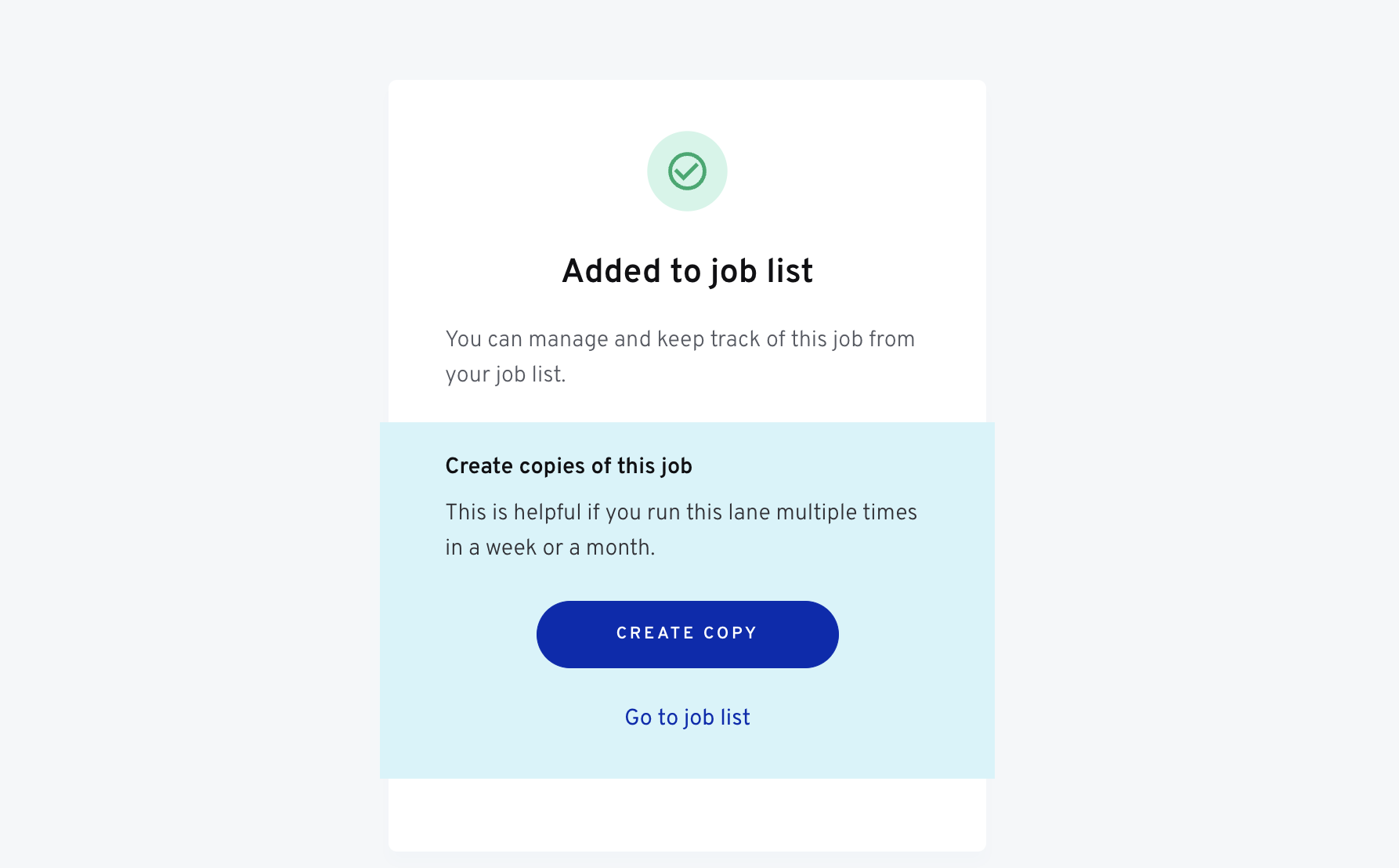 How to create a copy of a recurring load
1. Once you've used a template to add a load to your jobs list, click the blue 'Create Copy' button
2. Select 'Add a pickup date' and to create as many copies of the load as needed
3. Click submit and all of the copied loads will be added to your jobs list as "Booked" into the future
4. These copies will be created using the same information from the original load, but different dates based on your selection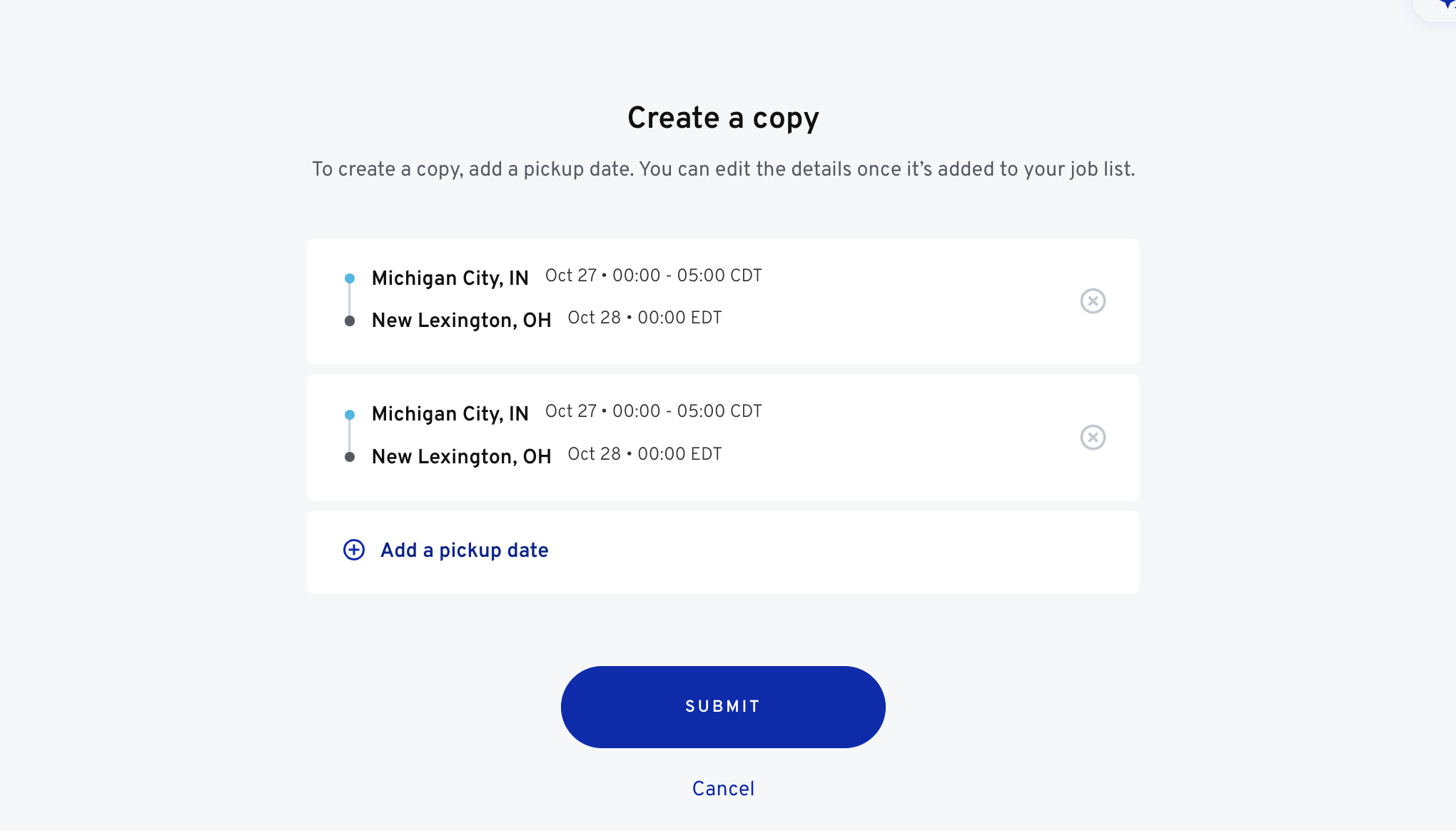 If the original load had a ratecon attached to it, will that same ratecon be attached to the copies?
No, copies of loads will not include the original ratecon. Each load will require its own ratecon.
How many templates can a fleet have?
A fleet can have as many templates as they'd like - there is no limit!
Which fields are required to create a template?
Only the template name is required to create the template. All other fields are optional until the load is ready to be added to your jobs list.
What if I'm unsure which driver to assign to a load?
A driver is required in order to create a live load, but can be edited at any time. The admin can add in any driver, and then update the driver assignment if needed.
If you have any questions about lane templates, please reach out to flex-support@cloudtrucks.com.